If you haven't already noticed, Pear Tree Greetings offers some pretty cool, new photo cards, some of these being our Photo Pockets – You Insert Photo line. These holiday cards are a new twist on the old 'photo insert cards' where you just taped your photo to the front of a card, framing your photo with some colored border or pattern. Not that those are bad…but these are just cooler
How they work:
You will receive a pocket, your personalized insert piece and a matching seal with your order. (don't forget…you provide the photo!) You'll fold and slide the personalized piece into the pocket, attach your photo to the center of the pocket, close, seal, insert into the provided envelopes and you're set! You are about to mail the coolest 'photo insert' anyone has seen.
My favorite: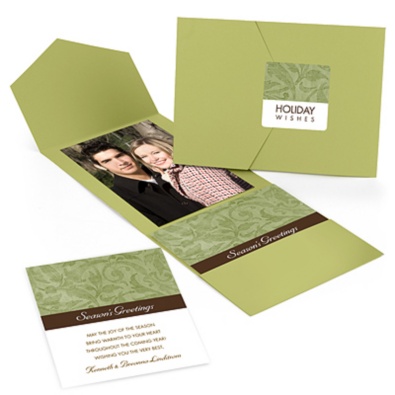 Still want to make these 'your own'? Here are a few ideas on how to add even more of a personal touch.
Tie a coordinating ribbon around your photo before taping it down, tying a little knot with the two ends, and placing the knot a little off-center.
Once you have the pocket sealed up, tie a ribbon around it and tie a bow, then insert into your envelope. Place the seal that was included with your order onto the back flap of the envelope.
If you have any other ideas, I'd love to hear them! Email me!