Did you get our email today about our new Thanksgiving recipe greeting card? If not, here's the fabulous card that you missed: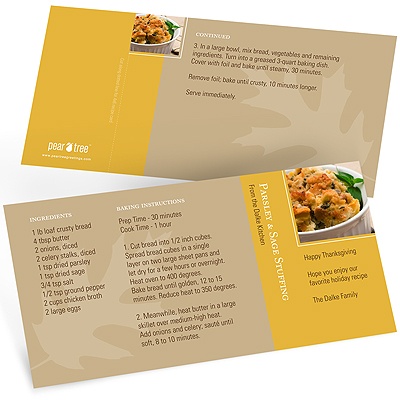 I just LOVE this card, the greeting card turned recipe card idea, the fact that it's about food and I could go on and on. To me, Thanksgiving is about being thankful AND the food. You can't deny it's a lot about the food.
So do you have a signature dish that everyone anxiously awaits each Thanksgiving? Why not make their day and share it with them along with your best Thanksgiving wishes. They'll be delighted! Plus, they can cut it down to be a perfect 4×6 recipe card!
Oh, and if you don't want to miss our emails…click here to sign up! Plus, if you sign up before October 31, you'll be entered into a contest to win $100 coupon for any order at Pear Tree Greetings!