Our product design team has been crazy busy lately bringing you ALL kinds of new products…we are so excited. The first of which I want to introduce to you is our new collection of mommy cards!
What are mommy cards, you ask? Well…consider it like a business card for your personal use. Have you ever been introduced to the parent of one of your child's classmates or friends only to forget their name minutes later? Or wanted to set up a play date with someone you just met who happens to have children the same age as you, but you don't have her phone number?
Enter mommy cards.
Now you no longer have to search for a pen in the bottom of your purse or use a deposit slip from your checkbook as a piece of paper. All of your information is right there. Perfect!
I know you're itching to go straight to Pear Tree Greetings to see our entire collection, but let me show you a few of our favorites.
Dainty Dots — Olive Mommy Card
Sweet and simple, that's why we love this one! Room for a cute photo and your important contact information.
This card is all about the details! All of your details are there plus room to write specific notes, playdate information, directions or anything else that you need!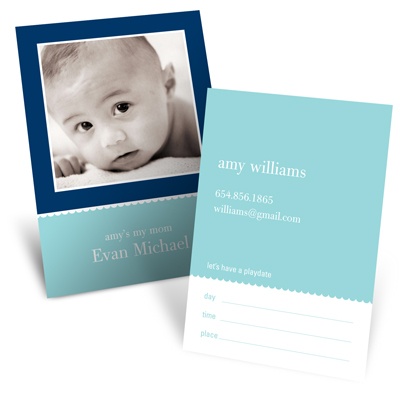 Scallops — Blue Mommy Card
This card features a front and a back with also space to write in playdate information!
Check out the entire collection of mommy cards today! And for more fun mommy and kids ideas, keep reading our blog.