So I showed my mom my new Mommy Cards from Pear Tree Greetings and she immediately said that SHE wanted some! No, not to feature me and my brother..she's so over us. Who else to feature than her two grandchildren! She was so excited and already has her favorite picture of the two of them picked out.
Thinking about it now, it makes sense. My mom could talk for hours about her grandchildren. So why wouldn't she want a little card to hand out to family and friends featuring a photo of the kids and links to our family blogs so the person she's talking to can see more pictures. Whether they will or not…it sure is a great opportunity for my mom to share how proud she is of her grandchildren!
This is the one my mom picked out. I think it's the perfect design as it has a full size photo and enough room to list both kids' names and two blog addresses…and it could fit even more! Plus, it's gender neutral.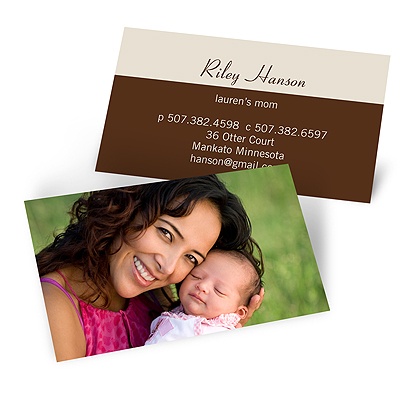 Had my mom not purchased hers already, I would have completely gotten them as a gift for Christmas or her birthday coming up. Maybe your mom would like some! See the entire collection of Mommy Cards today!